Holland Homes Guest Blog: So you're building a home ... Where to SPEND vs SAVE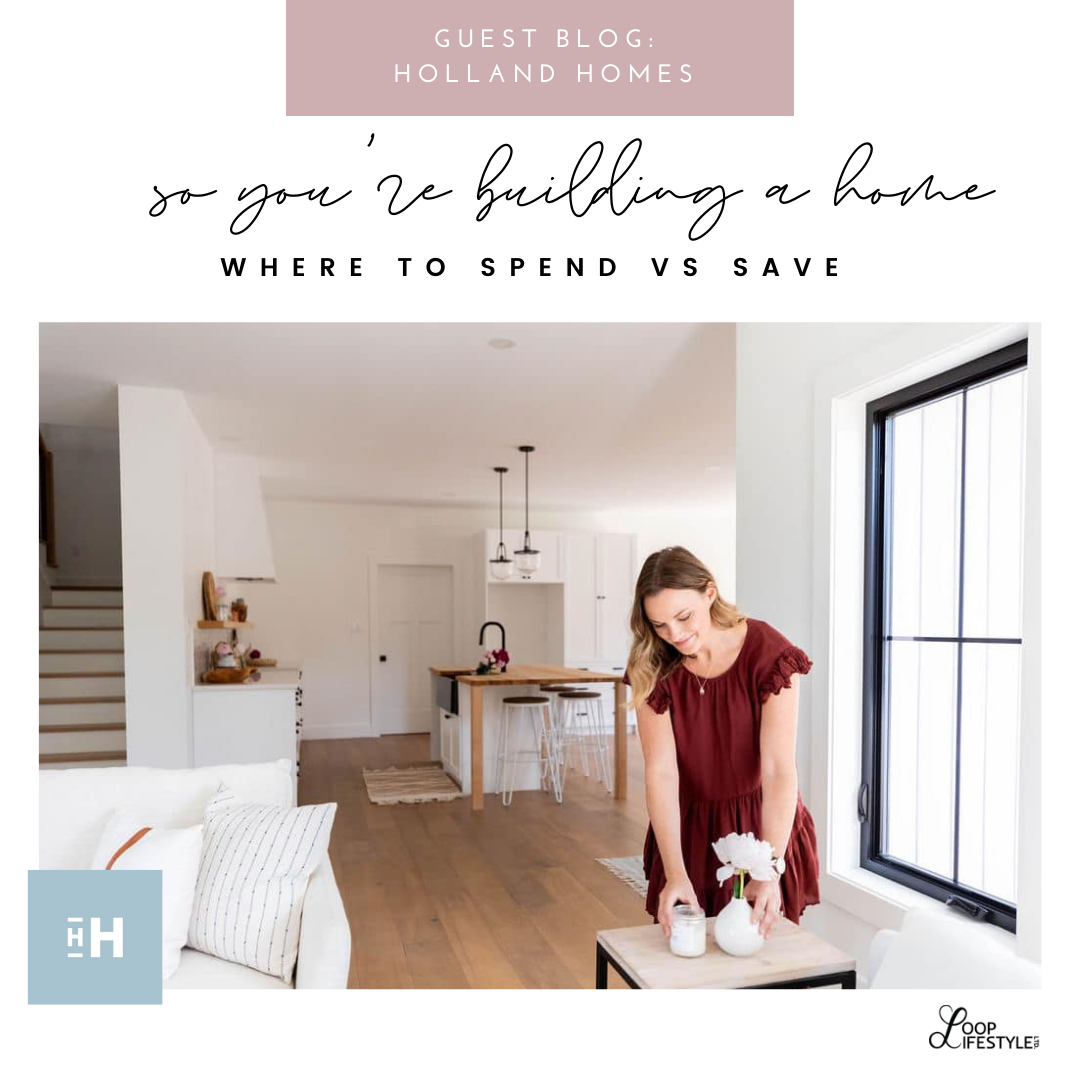 So you're building a home and want to know where you should spend, and where you should save your money.
After building a handful of custom homes for clients, and a few more homes on spec to make a profit, I believe I have a few helpful tips to ensure your important investment is spent wisely.  
Save: Countertops
HGTV and its "house hunters"/home renovation shows have made everyone believe they NEED solid stone countertops. And I'm here to tell you that natural stone or manmade solid material counters (such as quartz) can range from about five to more than ten times the cost of laminate or butcher block.
If you're on a budget and looking to save money, I recommend skipping the quartz for now, and using laminate. It's an easy switch down the road because it isn't too invasive to upgrade: the old counters pop off, the new ones replace them. There isn't a whole lot of divorce dust, ahem, renovation mess in replacing your countertops.
Companies like Wilsonart (available at Kent) have come a long way and using a modern profile, and forgoing the laminate backsplash, will make for a more modern look, which is similar to quartz.
My go to is White Carrera 4924-38 in the fine velvet finish. Finish off with a tile backsplash and you wont be disappointed with the overall finished look. And better yet, you won't be hiding an enormous bill from your spouse. 
Save: Basement
When you build a home that has the option of a basement, it can be appealing to have it finished during the duration of the build. But leaving it unfinished for the time being can be a good place to save money.
My advice is to plan how you'd like to have it in the future: do you want a bedroom down there? If so, you'll need an egress window. If you'd like a bathroom, plumbing lines should be done in the early stages of the build.
Plan it out, communicate to your builder where you'd like the plumbing and windows to go, make sure it's properly insulated, and then leave it for now. Down the road, after you've saved some money you can finish it off with flooring, interior walls, fixtures, lighting, etc. 
Save: Roof
This suggestion may be controversial for some, even myself!!!! (I love a metal roof!) However, more and more people are looking to invest in an expensive standing seam metal roof these days, and as much as I love the look and longevity of a metal roof (good for 50 years!) it can be a good place to save money.
Choosing ashphalt shingles for your roof is significantly less expensive than metal (sometimes a third of the price). And a newly shingled roof, if done correctly by a reputable company will usually be under warranty for 25 years.
Right now, in Fredericton's seller's market, the average years a homeowner spends in a home is THREE-FIVE YEARS.
So, I'll let you do the math in why spending less money on something that is still under warranty for 25 years is better than spending money on something that lasts for 50 years (hint, bc you'll probably be moving before the warranty is up). 
Spend: Flooring
I honestly cant' think of anything I would hate more than to move all my furniture out of my home, and basically have to move out for a few days or weeks to refinish/ replace my flooring.
This is why I tell our clients to invest in their '"forever flooring" when they build. And this goes for heated flooring as well. If you want some of your floors heated, or think you may want them heated down the road, it's much easier to do it now, when the house is opened up during framing, then it is to do it later on.
And flooring plays a HUGE role in the overall look and function of your home, so spend some time selecting timeless flooring that fits your household's style and lifestyle. 
Spend: "Behind the walls"
What else should you spend your money on? Well, I'm painting with a "broad brush" so to speak, but a good way to look at it, is to spend money on whatever is behind your walls that will make your home comfortable, efficient, and help it last.
Your heating and cooling system, insulation, windows, and sheathing/siding system are all examples of elements that you might not see as important to the design of your home but they're helping you to save money in heating your home, ensuring the structure is sound, and overall improving the quality of life inside the walls.
Building an efficient, comfortable home should be top on your priority list when building. 
 _______________________________________________________________
 HOLLAND HOMES
 Holland Home builds beautiful homes that stand the test of time. If you're interested in building in the Fredericton area, please call, email or contact them via any of their social media accounts.
Find Jenna and Steve on Facebook or Instagram
---