Making a Merry Kitchen wth Love Your Space Organizing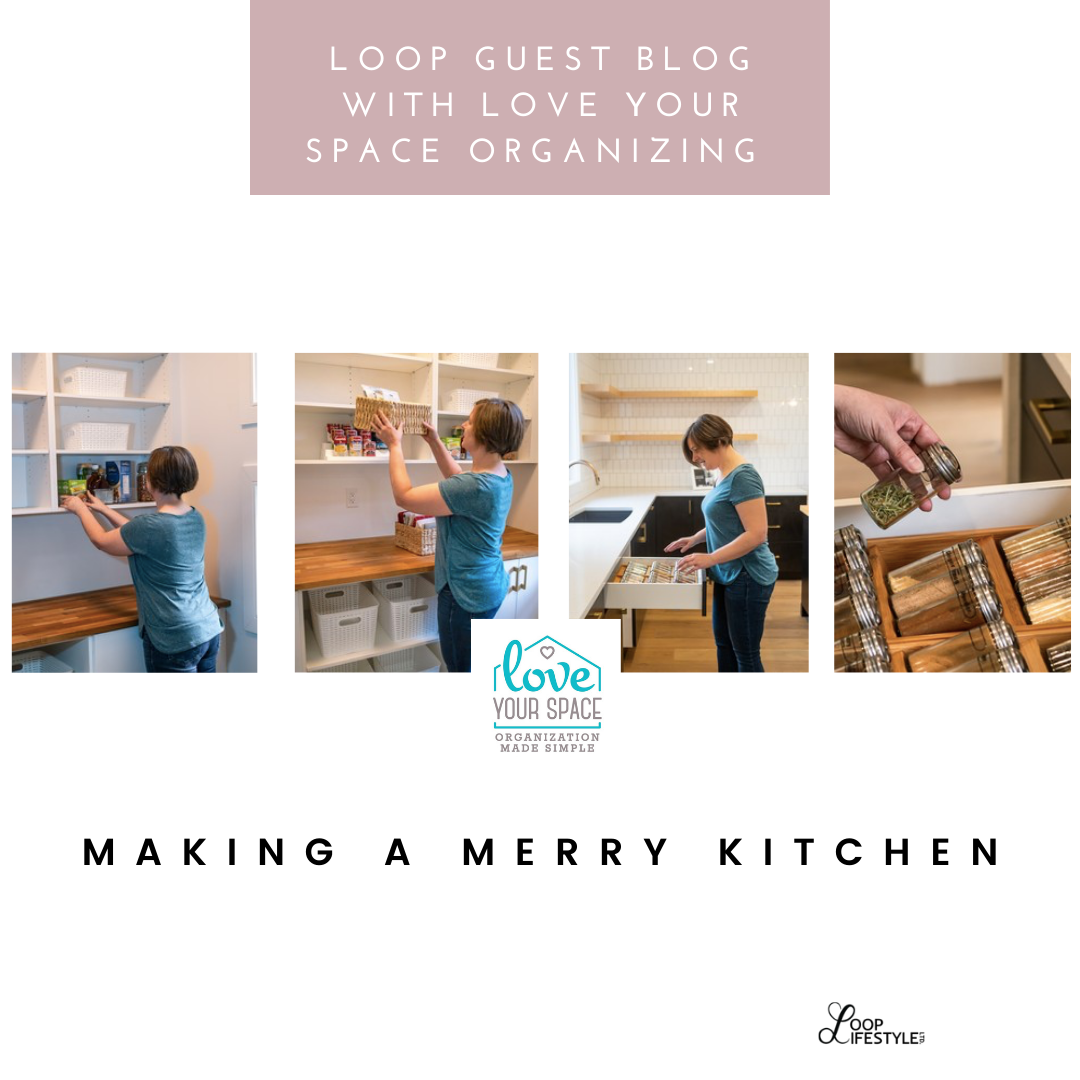 If you've been struggling with the function of your kitchen and can't figure out where to start in making improvements, please do read on.
We're going to break down the contents of a kitchen and talk about ideal placements for efficiency and function.
First, let's take a look at the below sample kitchen to get us into the zone. You'll see I've identified where I would locate each category of kitchen items.
A - Dinnerware
B - Pots and Pans
C - Baking Ingredients
D - Food Storage
E - Bakeware
F - Seasonal
G - Pot Holders
H - Serving Dishes
I - Cutlery
J - Spices
K - Company's Company Dishes
L - Small Appliances
M - Dish Detergent / Paper Towel
N - Linens
Now, let's break down the project discussing how you can replicate the efficiency in your own home.
STEP 1: EMPTY
First, we need to empty the entire contents of the kitchen. Yes. All of it.
Establish a place in the home large enough to spread out your contents into like categories.
STEP 2: SORT
Next, identify categories of items found in your kitchen. Use the samples below to guide you in getting the categories together.


Kitchen Category Examples:
STEP 3: EDIT
In order to have an efficient space, it is important to remove the noise. So, as you work through the items, pull out those that are expired, broken, too worn and place in a trash bag.
Those items that are in good condition but you simply don't use, place in a donation box.
If you really want to improve your space, it is important that you be real in this step. If you struggle to let something go that you don't use because it still has value, consider that upon donating the item(s) you are setting the item free to someone who will use and love it.

Still struggling, here are a few questions to ask yourself:
Do you use the item on a regular basis?
Does it add value to your life and/or make cooking easier or more enjoyable?
Could you use something else if you didn't have this item?
Does the item make you happy when you see or use it?
Are you keeping this item out of feelings of guilt or obligation, even if you don't use, need or like it?
Here's a further resource from Not Entirely Perfect that you may find helpful.
STEP 4 - CONTAINING + HOMING
The next and final step in organizing your kitchen is to contain and home. I'll show you how.
To improve the likelihood of a system sticking, these next two steps are important.

Containing means identifying a box, bin, turntable or some sort of product that will corral the like items together
Homing simply means the location where the contained category will be placed or live
Here are a few examples of contained and home categories in a kitchen to inspire you in creating your own.



Baking Ingredient Storage

Oils and Vinegars
Pantr
y


Deep Cabinets


Linens

Under Sink



Pots and Pan
s


If you're feeling stuck in any one of the above four steps, simply message me at
mindy@loveyourspace.ca
. I'm so very happy to help! See my
kitchen
Pinterest board for more inspiration.
Website: https://www.loveyourspace.ca 
Instagram: https://www.instagram.com/loveyourspaceorganizing/ 
---