LOOP's Eight Days of Holiday Cheer Giveaways !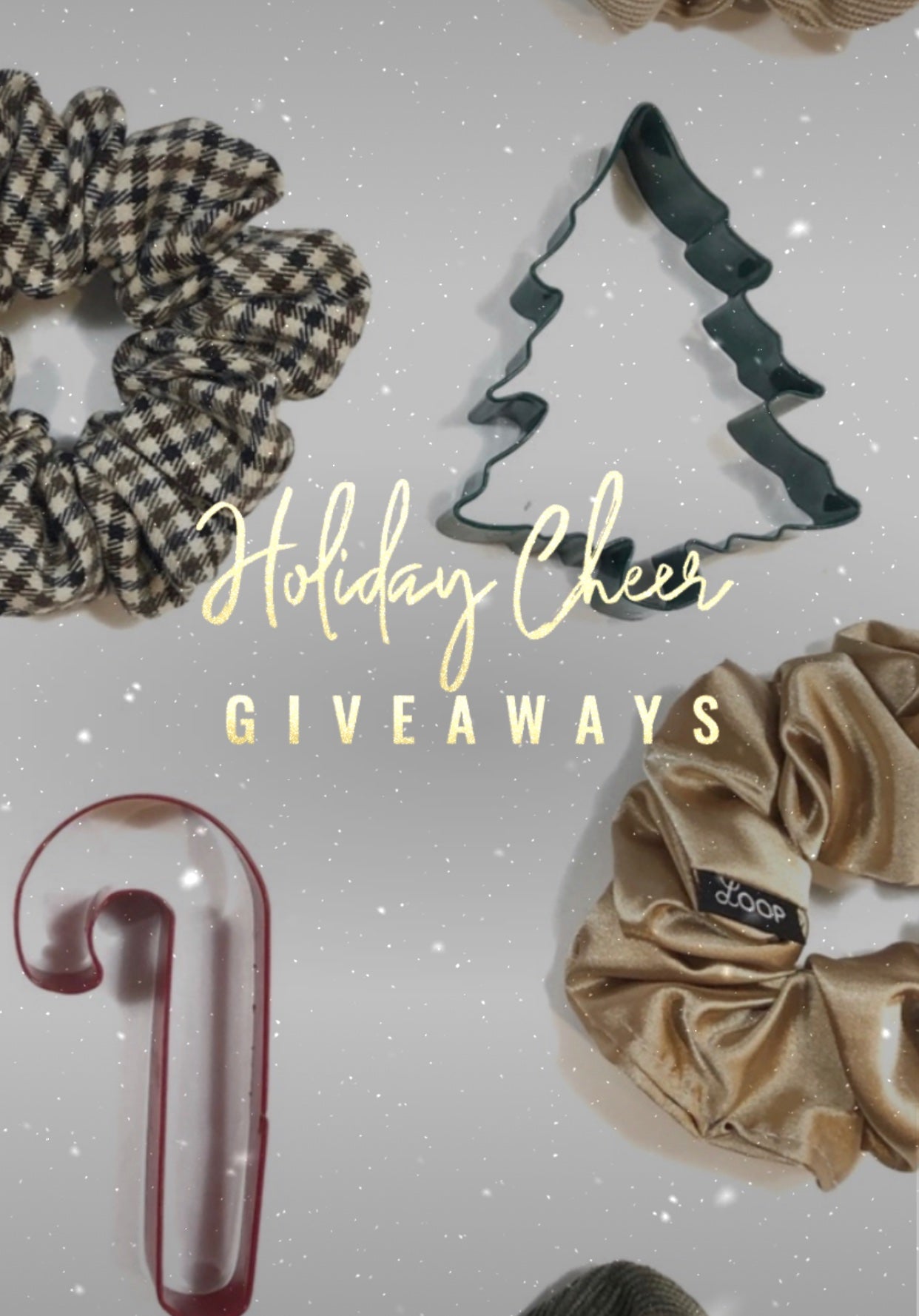 The best way to spread holiday cheer, is to sing loud for ALL to hear!
This holiday season, our LOOP elves have been working hard on our Holiday Cheer Collection! In addition to our cheerful collection of scrunchies and headbands, we also have our One-stop-shop for all your stocking stuffer needs. But if you know us, you know that we always have something else up our sleeves!

This holiday season, we want to continue to spread holiday cheer especially with all the craziness going on in the world. We just wanted to share as much as we could with you guys and spread cheer and joy and happiness to everyone! That is why we are excited to announce our …


(EIGHT DAYS OF) HOLIDAY CHEER GIVEAWAYS

Over eight days starting this Sunday, November 22, we invite you to participate in our 2020 Holiday Cheer Giveaways! We've partnered our favorite local shops to bring you the best holidays giveaways yet! We've hand selected the prizes based off of our favorite thing to do, eat, use and more! Trust us, there are so many different things, wonderful things! We really wanted to ensure each product or services was from local shops to bring you the best prizes AND to bring attention and highlight them during this holiday season.
We are so thankful and overwhelmed by the response we got for this. To the participating businesses, thank you.


How it Works:
Over eight days we will be posting various themed giveaways / bundles on our Instagram. There're even a few days where there are TWO different packages to be won!
Participants (Canada & US) must like the post, follow @loop.lifestyle's and the participating businesses. Bonus entries: share the post in your story and tag @loop.lifestyle; tag your friends and family in the comment section (each tag = 1 entry)
Participants (Canada & US) will be able to enter ALL giveaways until November 30, 2020 at 11:59 pm AST
Winners will be selected and announced on Tuesday December 01, 2020 on @loop.lifestyle's Instagram page.
Of course, we couldn't announce this amazing giveaway without giving you a sneak peak at our participating businesses, which include:

LOOP Lifestyle 
Juvel 
MillTown 
Sweat Club
Donut Bar
Avalon
Hali Axe Throwing
Reimagine Designs 
My Home / My Closet Consignment
Wasted Fashion
Radical Edge
Rustico
Simply for Life North
Rustik Soap
Upfront Cosmetics
Jewlz By Angie
Nicole Esson Designs
Delta Fredericton
Crabapple 
Blendid Beauty
Elle Mio
Curatted 
Sequoia
STM room
Splurge 
Carrington Co
Glamp Camp
Country Liberty
Hanson Road Flower Co
ALT Beauty
Melissa Bourbonasis Massage Therapist
Melissa Christie Medium
Trailered Tots
Victoria Grace Vintage 
Simply for Life Fred North
Set your alarms for 9:15 AM AST this Sunday, November 22, 2020 for our first @loop.lifestyle holiday cheer giveaway of the season!


XO Amanda & Trisha
---