Meet the Babes Behind the Brand: Amanda & Trisha, Co-CEO's of LOOP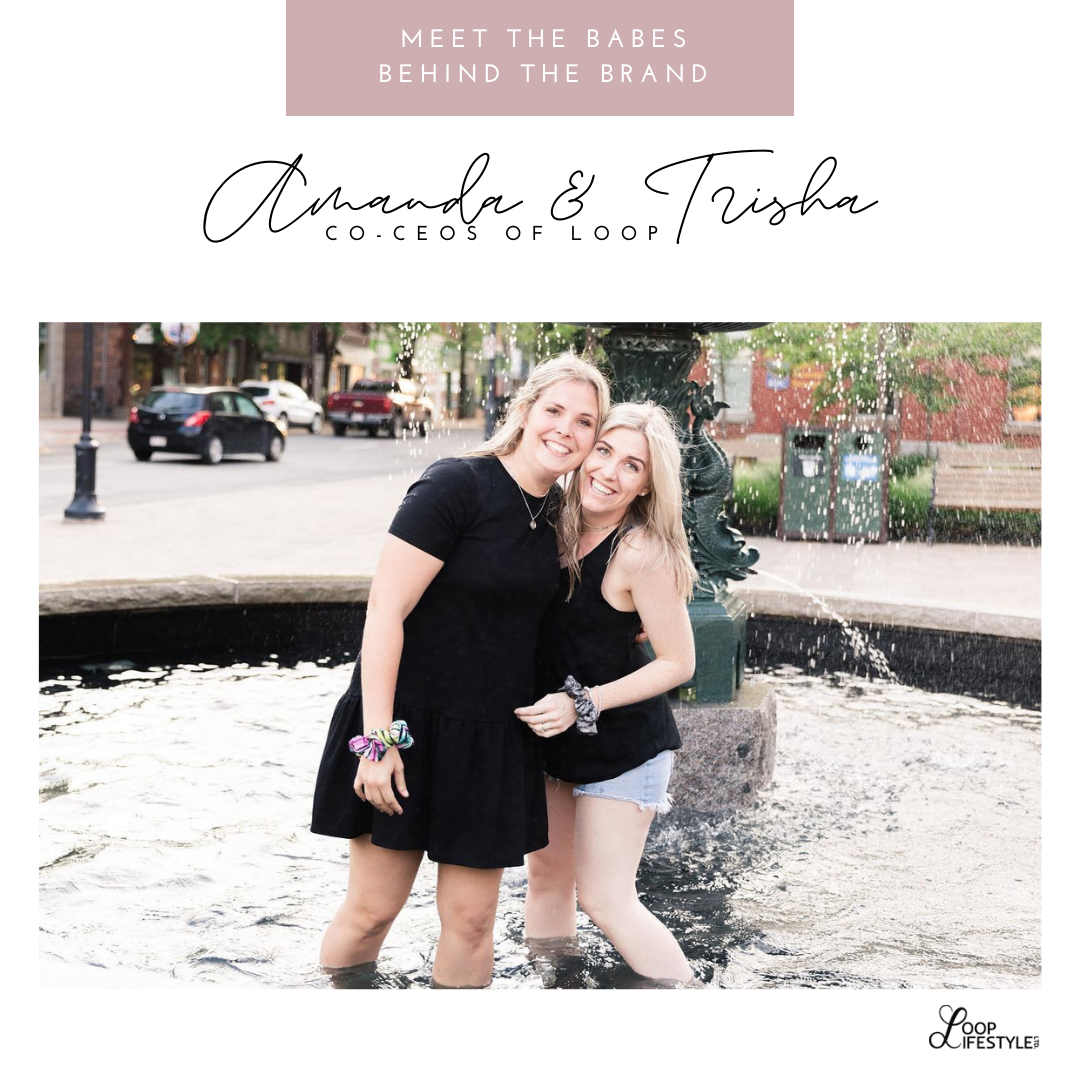 It's been two years of scrunchies, four babies and idk how many years of friendship and somehow it's lead us all here.
Hi! We're Amanda and Trisha, BFFs since Middle School and Co-CEO's of our business, Loop Lifestyle.
It all started with a hunt for a chunky instagramable scrunchie as the last item for My (Amanda's) hospital bag as  I prepared for the arrival of my son. I knew this day was not going to be the most glamorous, but I figured I could at least have a cute #topknot for what would be the most memorable day of my life.  
After dragging my fiancé to every store imaginable I ended up home with something less than satisfactory. Fast forward two months to some Mom Chat over coffee where I shared my pre-labor shopping adventure with my long-time friend and also new mom Trisha. 
Now, if you ever get the chance to meet Trisha you will quickly realize she is one to get SHIT DONE! So I kid you not literally seconds after the words "we should make scrunchies" rolled off my tongue she had the sewing tutorial videos up and the fabric bought,  ready to begin our journey to make the perfect scrunchies.
Naturally we started with the most critical sample group, and our first batch of Loops were made as party favors for one of our closest friend's baby shower. We couldn't have anticipated the amount of positive feedback we got.
Soon after we gifted these scrunchies requests started pouring in for different colours, and special orders for different occasions. We decided the easiest way to quickly share our product and communicate with potential customers was to set up an Etsy shop, so with a little trial and error we were up and running.
What we could have never expected is what came next. Now a little over two years later, we have added two little girls to our families; amazing staff and sewers to Team LOOP; and an amazing community of women across Canada who love messy buns and top knots as much as we do!
Today, we're ready to bring you on our journey of where we want to go to next. LOOP isn't just our products, it's a lifestyle. It's a space for women who are hustling every day to make their dreams come true; it's for the savvy ladies who love finding a great home organizer on Amazon for a great deal. It's for the Mom's that never get to drink their warm #coffee.
We want to share this journey with YOU. We want you keep you in the LOOP of the latest trends, best recipes, women's health, and community guest bloggers.
With the addition of the
Stay in the Loop
blog we can't wait to get to know you more! We promise to always keep things real, raw and relatable in our content. From the fashion, food, health, beauty and more this space is
where women can feel comfortable sharing not only the curated highlight reel that social media has become but also the struggles and less glamorous moments that life is truly made up of.
Don't get us wrong we are suckers for pretty content but it's those daily shares from all you that keeps us grounded and give us a space to refer to when we need inspiration the most. And that's what we want to provide to you!
SO, we thought to get to know us a big more we'd take a LOOP Quiz of some of our most commonly asked questions <3
Be sure to follow us at @mcgathey and @twishcann and sign up for our Stay in the Loop Newsletter for all our latest blogs, sales, and VIP early access to our collections.
Amanda & Trisha

---